How to get a home loan to construct your own house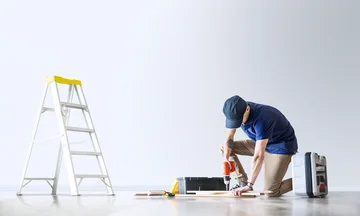 Ashish is someone who is always looking for ways to customize when presented with an idea. He prefers tailor-made garments over standard industry-fit clothing. He always has a specific set of instructions for the chef when going out to eat. Well, it doesn't come as a surprise when Ashish wishes to build his own home instead of going for an apartment built by a builder.
Having our own home is perhaps one of the biggest aspirations for most of us. Constructing a dream home the way you want leads to unparalleled happiness and a feeling of fulfillment that many of us long for. Building a home requires considerable time and effort. Whether you want to construct it on a piece of land you inherited from your parents or a vacant plot you bought, a home construction loan is a tool that helps you fulfill the dream of building your own home.
What is a Home Construction Loan?
A home construction loan is a type of home loan that is given by the lender to help you build your own house. The total loan amount is broken into multiple installments, and the payment is released over various stages from planning to execution based on the pre- defined disbursal criteria.
To apply for a home construction loan, you have to share the documents related to the planning and execution of the construction along with the budget for building your home with the bank or lender. Post the approval of the loan, finances for home construction loans are disbursed based on the requirement of that particular phase of construction as per the detailed plan shared earlier.
Points to Remember When Applying for Home Construction Loan
Listed below are key points you need to keep in mind while applying for a home construction loan:
● Maintain a good credit score
One of the key factors considered by a lender while processing a request for a home construction loan is a good credit score. It is useful in expediting the loan approval process and can help a great deal in securing the loan as your creditworthiness is directly linked to your credit score. The higher the score, the better are the chances of loan approval by the lender. Get a good credit score by ensuring bills and monthly instalments are paid on time and by maintaining a clean record with respect to repayments of previous loans.
● Check the lender's website for information
Loan approval, in most cases, is dependent on your repayment capacity and your monthly income. It is prudent to compute the loan EMI and to check the loan eligibility criteria before applying for a home construction loan. One of the quickest ways to do that is by visiting the website of the lender and using the EMI calculator feature provided on the web portal. Ideally, the EMI amount should be less than half of an individual's monthly salary.
● Keep the documents handy
To approve the loan, a lender has to be satisfied with the documents submitted by the borrower. It is advisable to keep the documents such as a detailed construction design plan, land ownership documents, and construction budget papers at hand before applying for the home construction loan.
● Work with qualified builders
A qualified builder/contractor generates trust and helps build the lender's confidence in the project. Moreover, having a good contractor will lead to less stress for you.
● Keep the buffer
No matter what project you undertake, it is always wise to keep some extra cost as a buffer. From inflation leading to a surge in the pricing of material used for construction to unforeseen circumstances, the cost of building your own home can put a constraint on the budget. Hence, it's recommended that you keep some savings as a buffer to manage an unplanned increase in the total construction cost.
Features of a Home Construction Loan
Some of the salient features of a home construction loan are given below.
● A freehand
Unlike the apartments built by a builder, building your own home is like painting on a blank canvas. Constructing your home lets you dictate every aspect of the construction such as colors used, quality of the material, home design, etc.
● Incremental disbursal
The disbursal of a home construction loan happens at regular intervals based on the stage of construction. Hence, the interest on the loan is paid only on the amount disbursed at that stage rather than the whole amount.
Bottom Line
Constructing your dream home from scratch is a unique and fulfilling experience. While it might seem difficult at first, watching your dream come true brick by brick is a rewarding journey. A home construction loan is a tool that equips you to build your home as you desire.