At Aadhar, it is not just giving back to the community, but also helping the community grow as we grow.
Our key CSR initiatives center around this thought of inclusive development and reflects in the diverse activities we undertake, catering to the vast, underserved sections of society. Ranging from health care to skill development, our initiatives not only provide for the weaker sections of society, but also empower them to sustain a better standard of living in the longer term.
Through our efforts, we also build a collaborative and empathy driven culture amongst our employees,by creating opportunities that enable our employees to give to society by volunteering for & driving ourvarious programs.

AADHAR ANNAPURNA
Under this project, Aadhar provided food and ration kits to marginalized poor who were struggling to meet their daily requirements and were at the risk of starvation. The initiative was undertaken as a response to contribute to the socio-economic development in COVID -19 times.
Cooked meals provided – 1.70 lakhs
Ration kits provided – 2140
Happiness Kits provided – 2727
AADHAR KISHORI KALYAN
Aadhar Kishori Kalyan aims at creating friendly environment for adolescent girls and women. From undertaking initiatives to educate women about menstrual hygiene management to skilling women for employability, AHFL aims to empower women to be confident & independent.
Beneficiaries under Menstrual Hygiene Initiative – 5345
Women skilled in retail sector – 450
AADHAR KAUSHAL
Aadhar Kaushal focuses on initiatives revolving around skilling & education. Through this initiative, we have developed 10 digital (computer) labs in government schools (our latest contribution) to educate children of destitute homes. Efforts have also been made for skilling of specially challenged and ensuring employability for them
No of computers donated – 76
No of digital labs set up – 10
No of specially challenged skilled – 225
No of kids of destitute homes skilled – 300
AADHAR AANGAN
An Early Child Care & Education Initiative for ensuring nutrition, a total of 418 Aanganwadis in Damoh (Madhya Pradesh) & Tendukheda (Madhya Pradesh) are supported under this initiative
Aanganwadis supported – 418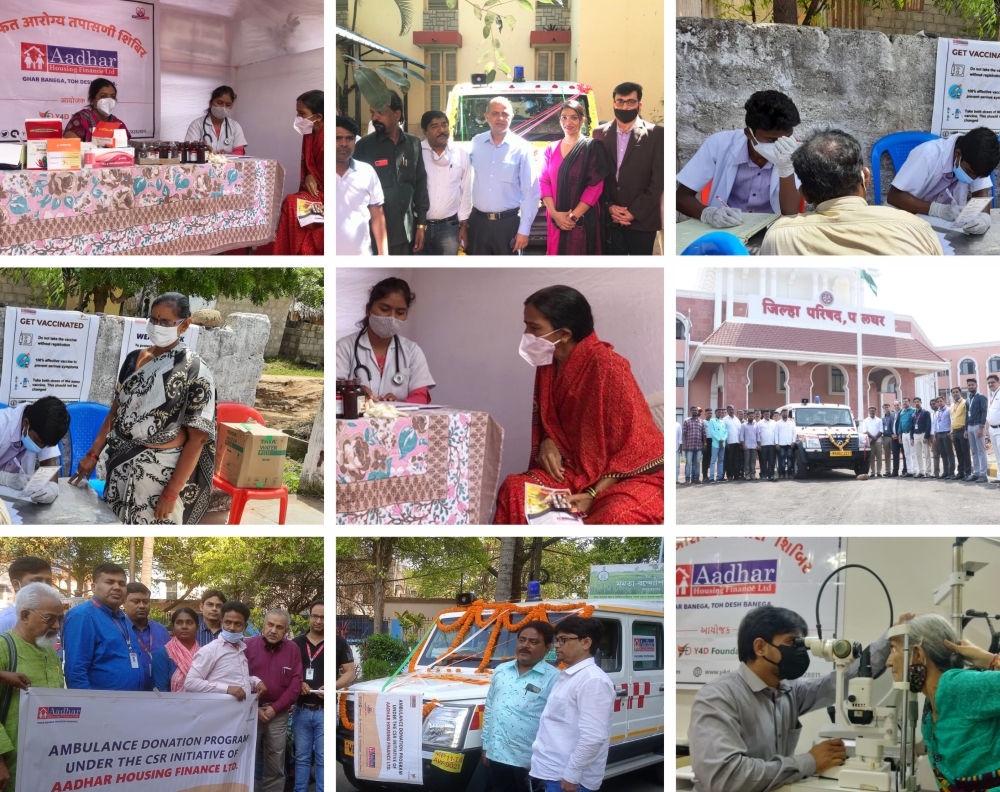 AAYUSHMAAN AADHAR
With an aim to promote health care including preventive health care and sanitation, Aayushmaan Aadhar focused on two major activities –
Health Camps – to create awareness on general health & personal hygiene to the lesser privileged sections of society. Health Camps for general check-ups, treatment and education are conducted with participation in large numbers.
Key Highlights
Health Camps conducted – 400
Beneficiaries – 1 Lakh+
States covered – 13
Donation of Ambulances - Medically equipped ambulances have been donated across locations to provide urgent pre-hospital treatment & transport of patients to definitive care.
20 ambulances donated
Water Ambulance at Dal Lake
Dal Lake has been the lifeline of Kashmir. The water ambulance will cater to about 20,000 persons & about 1500 families of houseboat owners. In addition to the basic infrastructure for the medical facilities, the water ambulance at Dal also has portable oxygen ventilator, fire extinguisher motor pump, Type B Oxygen cylinder & Luminous D/B solar inverter.

Annual
Report